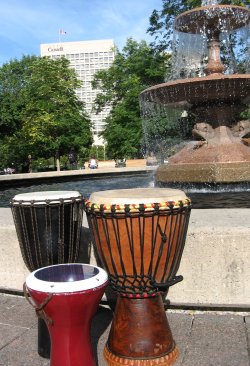 Mark your calendars, join the tam tams at Arts Court on Sunday nights:
- October 24
- November 7, 14, 28
- December 5, 12, 19
Next Earth*tones jam:
Sunday, November 28, 2010
8-10 pm
Arts Court Studio B
2 Daly Avenue, Ottawa Map »
$5, all ages
Discounts available in advance.
Bring your djembe, durbeki, bodhrán, shakers, bike bell, flute, violin or xylophone. Beginners are welcome.
Because we jam in a dance studio, we need to leave our shoes and boots at the door to protect the hardwood floor. No food or drinks are allowed in the studio. See you at the drum circle on Sunday!
Visit www.earth-tones.ca for details about upcoming events.
Join the Earth*tones Facebook page and event for updates.
Contact Mike Buckthought at helios -at- ncf.ca to join the Earth*tones email list.