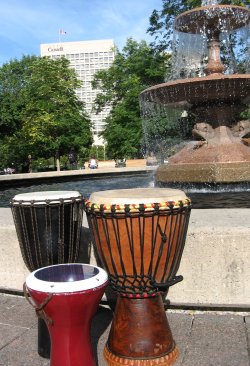 Earth*tones is Ottawa's place to jam with the djembés. This year, we're celebrating twenty years of drumming and dancing — the first drum circle was at Arts Court on January 24, 1999.
During the spring and summer, we have drum circles in Strathcona Park and on Bate Island.
In October, we returned to Arts Court. Join the jams every Sunday night. Check this site for details about upcoming drum circles — hope to see you soon.
What's a drum circle?
Music has become just another digital commodity to be downloaded, or bought in the form of metal and plastic laser-etched containers produced by transnational corporations. The music industry makes billions of dollars in profits, while musicians are often just cogs in the industrial machine.
Drum circles are different. We create our own music, and there isn't the alienation from music-maker that you find with the music industry. We create music spontaneously, improvising and dancing around a rhythm, and community emerges to challenge the alienation of the urban landscape.
Our community includes beginners as well as professional musicians and dancers. If you don't have an instrument, you can ask to try one — people will often bring extra shakers or drums to share. People are also welcome to share rhythms and songs that they know. Hope you can join us at the next jam!
For more information
For information about Earth*tones, contact Mike Buckthought at info -at- ottawadrumcircle.ca.
Visit earth-tones.ca for details about upcoming events.