Earth*tones Drum and Dance Circle / Groupe de danse et percussions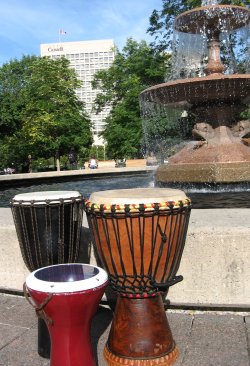 Every Sunday
3 - 5 pm
Confederation Park
Elgin and Laurier
Ottawa Map »
Join the tam tams in Ottawa! Bring a hand drum or another acoustic instrument if you have one.
Visit our web site www.earth-tones.ca for information about upcoming events.
Join the email list to receive updates about our events. Contact helios -at- ncf.ca.
---
Tous les dimanches
de 15 h à 17 h
Parc de la Confédération
À l'angle de la rue Elgin et de l'avenue Laurier
Ottawa Carte »
Les tams tams à Ottawa ! Apportez votre tambour ou un autre instrument acoustique.
Visitez notre site Web www.earth-tones.ca pour obtenir des renseignements sur nos événements.
Joignez-vous à notre liste d'envois pour recevoir les dernières nouvelles. Veuillez communiquer par courriel à l'adresse suivante : helios -at- ncf.ca.